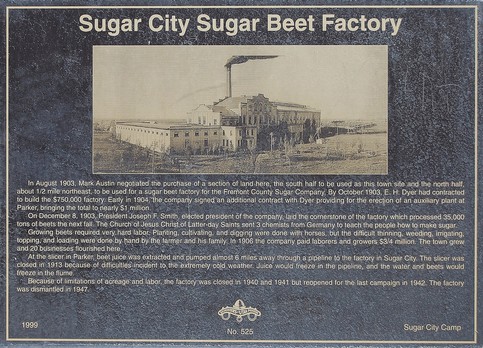 Sugar City was chartered in 1903 and incorporated under the general laws of Idaho in 1906. The Upper Snake River Valley was being developed into farms and ranches. Its volcanic soil and the cool summer nights of the region's high elevation were ideal for growing potatoes – and sugar beets. Sugar City was laid out to be near the largest factory of the Utah & Idaho Sugar Company, built in 1904.
The Union Pacific Railroad opened the region to national markets, not only for sugar but also for livestock, grains, potatoes, and timber.
Citizens no longer see the 100-pound bags of U&I sugar. Due to changes in technology and marketing, the sugar factory closed in 1942, having produced 405,000 tons of sweetness. Today, Sugar City is home to farmers, educators, businessmen, and workers in varied other vocations.
Mayoral History
Between 1906, when Sugar City was incorporated under the general laws of Idaho, and 1961, the city was the "Village of Sugar City," led by a board.
Chairmen
Thomas Austin, 1906
Alfred Ricks, 1907
J. W. Phillips, 1919
Alfred Ricks, Sr., 1923
J. Morgan Smith, 1927
Charles O. Hamilton, 1929
Leffel A. Bean, 1931
J. Kenneth Thatcher, 1947
John Wilding, 1952
Emery Thomas, 1957
LaMar Barrus, 1961 (appointed mayor 9-5-67)
Mayors
LaMar Barrus, 9‑5‑67
Glenn W. Dalling, 1968 (first elected mayor)
Lawrence Grover, 1972
Lyle H. Moon, 1-14-76, 1-9-80, 1-11-84
Rondo Barrus, 1-6-88
Albert W. Burton, 1-8-92
Roy P. Hill, 1-11-96
Lawrence E. Nielsen, 1-13-00
Glenn W. Dalling, 1-8-04, 1-10-08, 1-12-12
W. Lamont Merrill, 2-12-15
Dave Ogden, 2016 – 2019
Steven Adams, 2020 – present