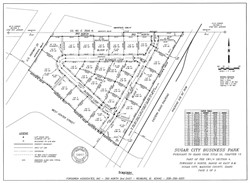 The business park in Sugar City is open for business, with a number of prime lots for sale. The park includes water, sewer, power, natural gas, telephone and fiber-optic (Internet) lines, together with new street and curb. Contact Judy Hobbs at (208) 356-8787. Interested parties also may call Sugar City Mayor Steven Adams at (208) 356-7561.
Hiring City Maintenance 
The City is accepting applications for a full time employee year round 40 hours per week in the public works department.
Duties will consist of:
 Street maintenance such as snow removal, potholes, patching, 

 Park maintenance such as mowing, trimming, sprinklers, tree trimming, general maintenance.

Equipment maintenance / repairs

Water and Sewer maintenance such as monitoring wells and lift stations, repairing lines, changing out or testing meters.    
Requirements 
Must be at least 18 years old 

Must contain a valid drivers license.

Must have a high school diploma or GED

Must be a US citizen

Must be able to be on call 24/7 for emergency purposes

Must live within 15 minutes of city limits

Must be able to obtain a water and sewer license within a time agreed upon by the city and individual.  
Not Required but would prefer
Someone capable of running Heavy equipment 

Sewer and water licenses 

Basic Mechanic skills 

Sprinkler knowledge 
Benefits
Persi retirement

Paid holidays

Paid vacation and sick leave

Dental, vision and accidental insurance. (currently no health insurance) 

Cell phone

Pay starts at $15-16 per hour depending on experience.  We do offer a $0.50 raise per water and sewer license.   
If interested please drop off your resume to city hall and fill out an application by no later than Friday November 5, 2021. Interviews will start the following week. 
If you have an questions about the job please email ajacobson@sugarcityidaho.gov