Pay Bills & Fees
For Sugar City utility payments you may (listed in preference):
1. Pay online at PSN (PAYMENT SERVICE NETWORK); you may set up for paperless billing here and auto-pay if desired. If you set up auto-pay at PSN, a convenience fee of $1.00 will be applied to checking and savings payments. A convenience fee of 2.75% will be applied to credit card payments. An additional 50¢ is applied for payments below $100.
2. Pay at www.sugarcityidaho.gov under "PAY BILLS & FEES" tab and you may "PAY WATER BILL DIRECTLY" from checking or savings account with no fees.
3. Set up bill pay through your own financial institution, which sends a check (allow at least 5 days for the city to receive the check and remember payments are due on the 25th of the month).
4. Mail check or money order to: SUGAR CITY HALL, P.O. BOX 56, SUGAR CITY, ID 83448.
5. Leave check or money order payment (preferably no cash please) in an envelope in the secure drop box at city hall entrance (lower right area of front door).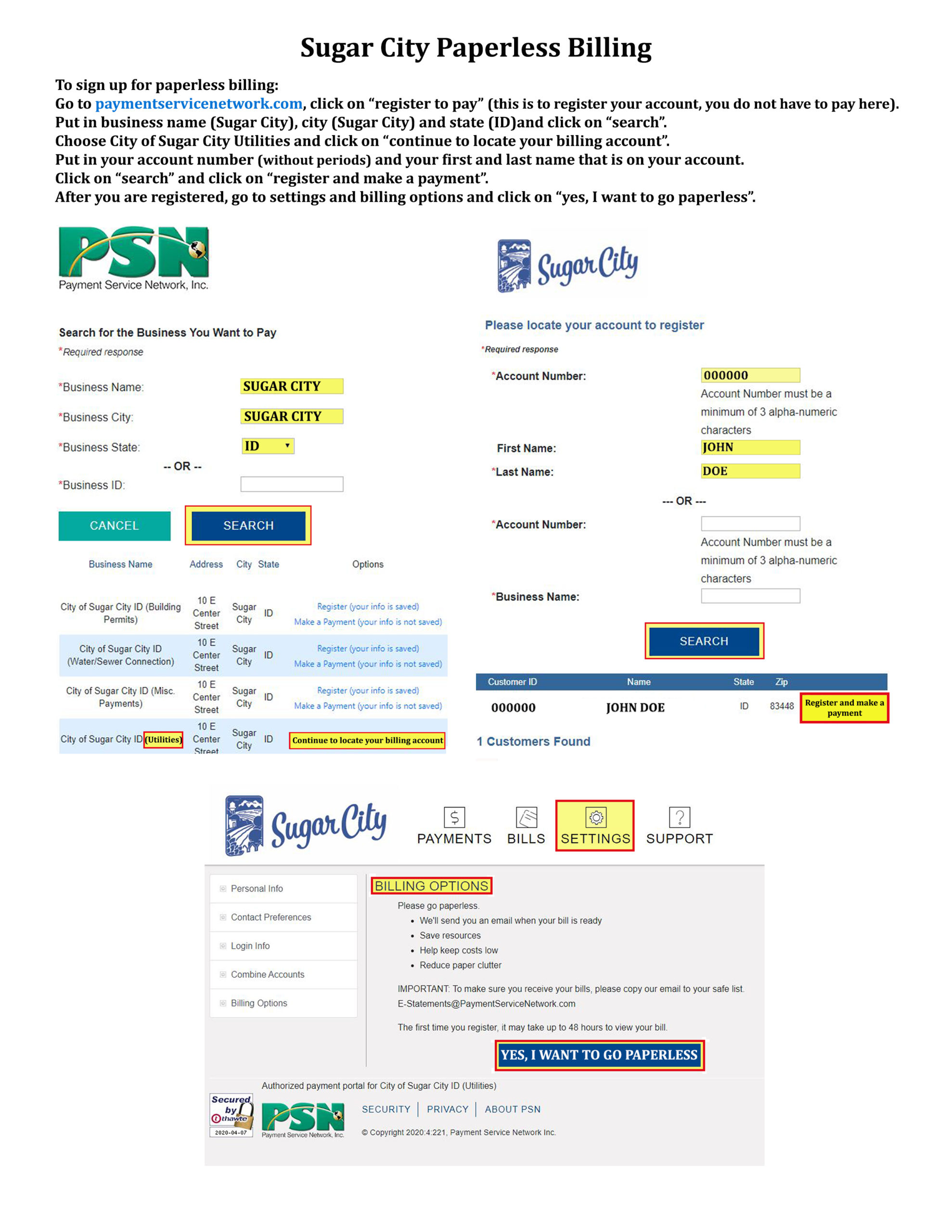 from checking or savings
or
fees apply (see below)
PAY BILLS & FEES ONLINE*
Click Here to pay online using a checking account. Make sure to have your bill handy, if applicable, to provide your customer account number. You can pay immediately, schedule a payment or set up Auto-Pay. You can also view your utility bill and amount due, print receipts, view payment history, and see status of payments by going online.
Click Here for Credit card payments. An account must be created before you can make a payment when using this method.
DOWNLOAD UTILITY PAYMENT APP FOR MOBILE DEVICES*
DOWNLOAD "PSN Payments" from the App Store or Google Play for UTILITY payments only. Go online to register before using the app by clicking the Pay Utility Bill button below. Once you have registered, use your login credentials for the app. The app is FREE.

PAY BY PHONE*
Call the numbers below to pay by phone.
PAY UTILITY BILL: 877-885-7968
PAY BUILDING PERMIT: 866-917-7368
PAY WATER CONNECTION: 866-917-7368
PAY OTHER FEES: 866-917-7368
*Our payment processor charges a $1.00 fee for checks and 2.75% (+0.50 if under $1.00) for credit and debit cards

We use the Payment Service Network to process our payments. PSN has been certified as maintaining the highest level of security as required by the credit card industry.