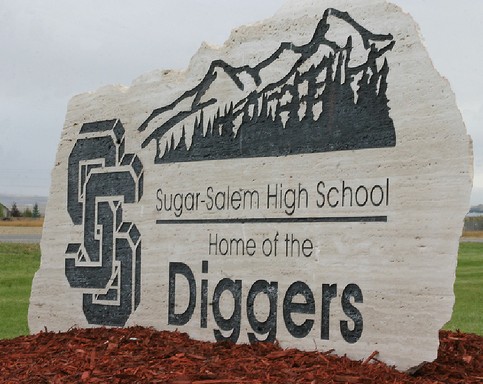 Main welcome sign at Sugar-Salem High School.
Sugar City, combined with Salem, has its own school district, District 322 (www.sugarsalem.com, 208-356-8802). Salem is the rural area west of Sugar City. In town are four schools:
Central Elementary, grades K-3 (420 students)
Kershaw Intermediate, grades 4-6 (375 students)
Sugar-Salem Junior High, grades 7-8 (275 students)
Sugar-Salem High, grades 9-12 (450 students)
About one-third of the students live in Sugar City. The others come from Salem and the surrounding area as far away as Newdale, eight miles to the east. More than 100 of the district's approximately 1,600 students live outside district boundaries but attend Sugar-Salem schools by choice.
Sugar-Salem schools are known for academic excellence, with the high school one of two in Idaho designated a national Blue Ribbon School by the U.S. Department of Education. Sugar-Salem High School also boasts award-winning orchestra and drama programs and excels in competitive sports.
Schools in the district are classified at four or five stars on a five-star rating system, and each meets No Child Left Behind annual progress requirements.
A committed and conscientious school board oversees the district, maintaining and strengthening its scholastic and extracurricular programs. The board ensures balanced and effective curricula.
Contact:
Alan Dunn, Ed.S., Superintendent
Sugar-Salem School District #322
P.O. Box 150/105 West Center
Sugar City, Idaho 83448